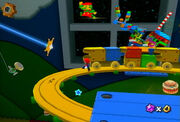 Toy Time Galaxy is a toy themed
galaxy
including desserts, toy houses and other miscellaneous things, appear in
Super Mario Galaxy
.
Train Circle
Edit
A starting planet for all 3 missions. This planet includes a train track and two trains, which seems to drive in different ways in each missions. The launch star's positions also change in each mission.
Toy House
Edit
A house with screws to screw in/loosen. On the right side of the toy house is a launch star that launches you out of the chimney.
Food Dish Planet
Edit
A planet with a large bottle and some forks and spoons, the bottle top needs to be stomped to get to the launch star inside the bottle.
Mecha Bowser
Edit
A robot which represents Mecha Bowser, when you break the long stone stack on the top you will free the kidnapped gearmos.
Mario Figure
Edit
An 8-bit figure with Mario's look on top. The Luigi version is 8-bit Luigi.