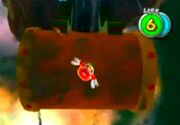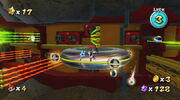 Battlerock Galaxy is a giant weaponized rock that appeared in Super Mario Galaxy. It's full of giant cannons, electric fences and saucers. Here, Mario learns to use bob-ombs and battles Topmaniac.
There is blue star chips and bombs on these saucers, they are different in two missions.
Missile Planet
Edit
A Missile Shaped planet in "Breaking into the Battlerock".
Moving Astro Shields
Edit
Astro Shields that are protecting the power star from being stolen.